« You know, the thing I love so much about Los Angeles is you're only an hour away of the ocean, or mountains, or desert, snow, earthquake, flood, fire... I mean it's like Hell but with good restaurants. » (Stephen Tobolowsky)
BEING STEPHEN TOBOLOWSKY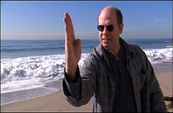 Everybody loves Stephen Tobolowsky, everybody has one DVD (if not more) of the movies where he's in, everybody have seen him at least once on TV. Talk to someone about the roles of Stephen Tobolowsky and his face will be lighten by the most gracious smile. The public adores Stephen Tobolowky... but ignores his name.
Stephen Tobolowsky is not a « star », tabloids will never sell copies on his name and he will never promote a movie he has done by selling his private life. If Stephen Tobolowsky is also a movie and stage director, he's above all the quintessential « character actor ». He's even the most flamboyant of this category : leader of the KKK in Missisipi Burning, the obnoxious insurance salesman of Groundhog Day, the amnesiac husband of Memento, the villain of Garfield, the assistant district attorney in the CSI : Miami tv-show and so much more.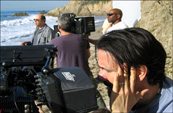 Robert Brinkmann, renowned cinematographer (the famous U2 : Rattle and Hum rockumentary, The Cable Guy...) and pioneer of the production of musical videos for artists such as Whitney Houston or Céline Dion, knows Stephen Tobolowsky since 1987. Amazed by the extraordinary anecdotes the actor loves to tell when he's in company, Brinkmann decides to make a movie out of this and talks of the project to his friend. Stephen Tobolowsky's Birthday Party will have to wait almost 15 years to see the light of the day.
IN THE KITCHEN WITH STEPHEN TOBOLOWSKY
« I think whenever you're cooking for 20 or more people you really only have two options : pizza or barbecue. Always go with the barbecue. » (The cook)
A hand cracks a match like the one of Bruce Geller in the main title of the Mission : Impossible tv-series, but it's to light a candle. Off screen, the voice of Robert Brinkmann invites us to the birthday party of Stephen Tobolowsky while we're hearing the Prelude #1 in C Major by Bach, performed by the actor himself (like all the pieces of music we hear in the movie).