David Lynch is one of the most celebrated and successful artists of the last quarter of the 20th century. His mastery of multi-media has given him a unique place in the history of visual culture. Lynch's stunning, brilliantly original images rank among the most compelling and forceful visual statements of our time. In both his paintings and his films, Lynch's personal vision creates groundbreaking possibilities of narrative expression. His great achievement in both mediums has been to expand the visual narrative tradition by moving beyond conventional cliché-ridden boundaries and expectations to a surreal depiction of life's dark passages.
Lynch began his career as a painter after studying at the Pennsylvania Academy of Fine Arts in Philadelphia. His subsequent interest in "movement" in painting compelled the young student from Missoula, Montana, to become a filmmaker. His simultaneous painting and making of short films in the late 1960's culminated in a grant from the American Film Institute in Beverly Hills, where he laid the groundwork for his first feature film, Eraserhead, released in 1978. This strange and clever film was followed in the 80's with The Elephant Man, Dune, and Blue Velvet, and in the 90's with Wild at Heart, Twin Peaks : Fire, Walk With Me, Lost Highway and The Straight Story, as well as the television series Twin Peaks. His most recent feature film was Mulholland Drive in 2001 for which he received his third Academy Award nomination as Best Director.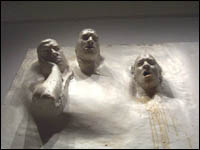 Filmmaking was a natural extension of Lynch's work in painting, drawing, printmaking, sculpture, still photography, composing and performance. His singular vision enables him to shift from one medium to the other with a consistent aesthetic thread. The phenomenon of artist as filmmaker encompasses the entire century, including the work of Jean Cocteau, Salvador Dali, Hans Richter, Joseph Cornell, Man Ray, Andy Warhol, Satyajit Ray, Peter Greenaway, Derek Jarman, Len Lye, and Sally Potter, among many others. The cross-disciplinary multi-faceted work of these artists blurs the distinction between popular culture and the avant-garde.
In the last quarter of the 20th century, increasing numbers of artists used film and video as well as more traditional media, often in combination. Several other leading painters in the 80s began making feature films in the 90s, most notably Robert Longo with Johnny Mnemonic (1995), David Salle with Search and Destroy (1995), and Julian Schnabel with Basquiat (1996) and Before Night Falls (2000). Along with Lynch, these painters bring to film their knowledge of how to control light and shadow and compose images, as well as the ability to tell visual stories. The medium of film gave them the ability to further develop characters and to make these characters "move."