Objectif Cinéma : Nicholas Meyer, you are definitely a master in the art of story telling. When did you decide to imagine stories of your own ? Which books gave you the desire and the taste to do so ?
Nicholas Meyer : I became interested in story telling from listening to the bedtime stories my father read to be at night, everything from Winnie the Pooh, to Grimm Fairy Tales, Kipling's Just So stories and later the Greek myths. I started dictating my own stories to my father when I was around five and after a year or two of acting as my amuensis, he told me I must do my own writing and I've been doing it ever since.
Objectif Cinéma : Which movies have influenced you the most ?
Nicholas Meyer : The films which have influenced me were Peter Brook's The Beggars Opera, Henry V (both significantly with Laurence Olivier), plus the Marx Brothers, WB gangster movies, Around the world in 80 days and an endless list, comprising Woody Allen, Francis Coppola, Hitchcock, Ford, John Huston (my favorite American director), Louis Malle, etc.
Objectif Cinéma : Usually, a story teller loves to hear, read and watch good stories...
Nicholas Meyer : My story telling tastes are Catholic and ecclectic as is the case with these film-makers. I never cared if the stories were funny or serious, present day, historical or science fiction. I cared only that they were good stories.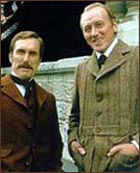 My definition of a good story is that once you hear it, you understand why someone wanted to tell it to you. Henry James said the least demand you can make of a work of art is that it be interesting ; the greatest demand is that it be moving.
Objectif Cinéma : How did your father and his profession, and later your teachers at the University of Iowa contribute to the edification of your cultural background ?
Nicholas Meyer : My father was a psychoanalyst, whose chief preoccupation, therefore, was human behavior. Why and how people do the things they do. When I listened to him speak about searching for clues from people as to why they behaved as they did, I was irresistibly reminded of Sherlock Holmes, an association that eventually led to my writing the novel, The Seven-Per-Cent Solution, as well as a general preoccupation with motivation that helps my writing.