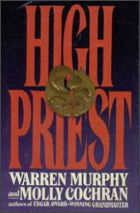 Objectif Cinéma : How did you meet Richard Sapir and how came the idea of The Destroyer ?
Warren Murphy : I had been a newspaper writer and editor but in the early 1960's, I was working in politics in City Hall in Jersey City, New Jersey, as the mayor's personal secretary. Dick Sapir was assigned by the local newspaper to cover news in City Hall and that's where we met and became friends and drinking buddies. We both had been writing fiction - unsuccessfully - for a long time and we decided one late drunken night to collaborate on a book.
It was probably Dick's idea to write about an assassin hired by the U.S. government to preserve the country's freedoms, but it was a long time ago and I can't be sure. I named the characters, Remo, Chiun, the House of Sinanju, and came up with the first title : Created, the Destroyer which is a paraphrase of a quote from the Bhagavad Gita.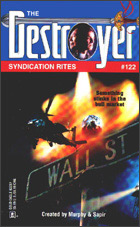 Objectif Cinéma : Richard Sapir and yourself sold Created, The Destroyer to Pinnacle Books in 1971. Did the publication of Don Pendleton's The Executioner have an influence over the launching of the character from Pinnacle's point of view ?
Warren Murphy : We finished the manuscript on June 25, 1963 - I remember the date because my son, Brian, was born that day - but we were ahead of our time and no one would publish it. This manuscript sat in an agent's cabinet for almost eight years until one day, a young secretary from Pinnacle Books, was having her mouth worked on by a New York dentist named Joseph Sapir, Dick's father. He found out what she did and said « My son wrote a book like that once », and she answered (with a drill in her mouth), « Have him send it to me and I'll show it to an editor ».