Objectif Cinéma : Before being a full-time TV and movie producer you are a renowned Stunt artist and Stunt designer. How did you become involved in the world of stunts ?
Hermann Joha : After school, I trained as forwarding merchant. But this was far away from what I had in mind for creating my future. So at the age of 17, I decided to leave home and join the famous London « Hells Drivers » stuntmen. At that time I became popular as the youngest stuntman ever in Europe.
Objectif Cinéma : The name of your company, action concept, is very well chosen, as you have an approach of the action stunts so unique that in some countries like France, viewers talk about « action concept style ». What conception of action did you have in mind when you created this company ?
Hermann Joha : Since we provide all services of a film production within one company, we will soon refresh our logo. It will say : « action concept - More than entertainment ». The company name together with the slogan is going to express all we represent : a professional full service film production for action formats.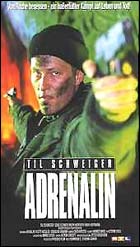 Objectif Cinéma : You were the Stunt coordinator of an excellent thriller called Adrenaline...
Hermann Joha : Thank you !
Objectif Cinéma : Adrenaline contains all the ingredients of what makes your style a reference today. Could you please tell us some words about how you devised the action sequences of this movie ?
Hermann Joha : Both the story and the scenery inspired us to move one step forward and create new stunts. Til Schweiger was at that time and still is one of the most popular actors in Germany - he played the main character. There was also the colourful setting and the exciting backstage labyrinth of roller coasters in the leisure park Phantasialand where most of the shooting was realised.