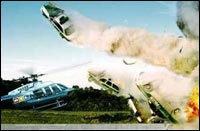 Objectif Cinéma : As a movie spectator what are, in the history of Cinema, your favourite action sequences ?
Hermann Joha : One of my favourite sequences is in Ronin where there is a hide and seek sequence in real traffic, accompanied by on board cameras and several cameras on the sideway.
Objectif Cinéma : Who are the Stunt artists you admire most ?
Hermann Joha : I admire every member of our stunt crew - they give the best in for every sequence and belong to the most professional stuntmen and stuntwomen worldwide. But... being a professional helicopter pilot myself, my personal favourite is Rainer Wilke. He is an artist in the air and does spectacular stunts with a helicopter.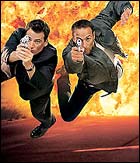 Objectif Cinéma : The Alarm für Cobra 11 series is probably the most popular action concept title. The show was first produced by another company. How did action concept jump from action sequences producer to producer of the series itself ?
Hermann Joha : Yes, action concept started as a 2nd Unit production for Alarm für Cobra 11. At this time, again, I decided to move a step forward and offered RTL a full service production. They had enough faith in us - and placed the order !
Objectif Cinéma : Your company has created a totally new genre of TV-series, without equivalent even in the US, with blockbuster-style action every week cleverly integrated in well built and well performed stories. How do the writers and the Stunt artists collaborate to succeed in this integration ?
Hermann Joha : When RTL mandated us with Alarm für Cobra 11, we expanded rapidly to a full-service film production, providing a professional content development team, which is responsible for the script and the storyboards and the stunt production. All our departments, the post production, VFX, SFX, etc... are situated in one building. That makes both cooperation and coordination much easier and effective.