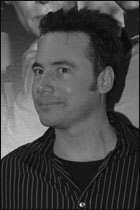 Objectif Cinéma : Michael Herbig, younger, you wanted to study at the Münchener Filmhochschule. Did you want to become a filmmaker ?
Michael Herbig : Unfortunately I was rejected from the Münchener Filmhochschule. So I am a perfect autodidact and have been for over 24 years. I started making films at the age of 12. You could say I invented « Dogma » back then : no light, no sound and a shaky camera.
Objectif Cinéma : What are your favorite movies and your favorite directors ? Why ?
Michael Herbig : In principle, when I pay for my movie ticket, I want to be entertained. I love the old Hitchcock films. When I watched Psycho and The Birds, I wanted to become a director from that moment on. I also admire Steven Spielberg and Robert Zemeckis. E.T. and Forrest Gump definitely belong to my all-time-favourites.
Objectif Cinéma : Your career started with a morning show, Langemann und die Morgencrew, on a local radio station in Munich. Could you tell us a few words about your work on this show ?
Michael Herbig : After my rejection from film school, I landed in the radio business, but as I neither saw a presenter, nor a journalist in myself, I started developing my first comedy-series. In 1991 I started in the morning show as a comedy-sidekick and produced the show until 1995.
Objectif Cinéma : Is radio a good training for aquiring the feeling of timing and situation necessary for comedy ?
Michael Herbig : For me the daily radioshow was an ideal training for timing and the development of characters - sort of « movies for the ears » !