« Height : 183 centimetres ; weight : 76 kilograms ; slim build ; eyes : blue ; hair : black ; scar down right cheek and on left shoulder ; signs of plastic surgery on back of right hand (see Appendix « A ») ; all-round athlete ; expert pistol shot, boxer, knife-thrower ; does not use disguises. » (Ian Fleming, From Russia With Love, 1956)


FOR SPECIAL SERVICES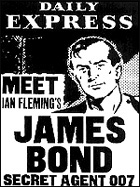 « Where all other Bonds end, this one begins... » said the tagline on the poster of Moonraker (1979), the 11th official James Bond adventure for the big screen. Before becoming the longest and the most profitable franchise of the film industry, the litterary creation of Ian Fleming was adaptated for television (Casino Royale, 1954 - an episode of the anthology Climax ! with US actor Barry Nelson as Bond), then for a series of daily comic strips first published in 1958 by the London Daily Express newspaper.
Fleming was almost reluctant to see his character in a daily cartoon strip and sold the rights to the Express only with some assurances that it would be top-notch and with what would be called today a « final cut » over the strips before publication. From 1958 to 1966, artist John McClusky illustrated the adaptations of Fleming's novels (and of a novela, Risico) by faithful writers Anthony Hearn, Peter O'Donnell (Modesty Blaise) and, above all, Henry Gammidge.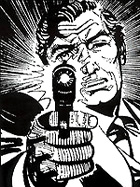 « It's a new world. With new enemies. And new threats. But you can still depend on one man... » Thus was introduced the Pierce Brosnan era of the James Bond franchise in the teaser of GoldenEye (1995) but this catch phrase is also the perfect sum up for the difficulties encountered by the successors of Gammidge and McClusky : illustrator Yaroslav Horak and writer Jim Lawrence.
« It can't be an easy job » (James Bond - Ian Fleming, From a view to a Kill, 1960)