« We live in times when there is a tremendous exaggeration on the glamour of viciousness, of angriness, of hardness, all the so-called basic faults. Well, kindness has become identied almost with weakness and attractiveness. To me, it's much more fascinating to make kindness fascinating... » (Peter Lorre)
FLY OF THE PARROT
Born June 26, 1904 in Hungary, László Loewenstein was supposed to stay a bank teller in Vienna to please his family but the role of a dwarf in a primary school production of Snow White and - more seriously - his real acting debut on the stage of the Vienna's Kammerspiele decided otherwise.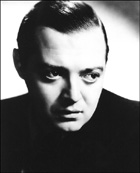 In 1922, his implication in the Theater of Spontaneity founded by Jacob Levy Moreno - the father of the Psychodrama concept - helped the young László to perfect his technique in front of spectators like Arthur Schnitzler. But Moreno gave him more than this opportunity, introducing him to his circle of friends, and found him his professional name : Peter Lorre - the conjunction of his friend Peter Altenberg's Christian name, of the ressemblance of László Loewenstein to a character of the german popular litterature, and the word Lorre (the sound of the name Lora told by a parrot !)
Peter Lorre moved to Breslau, Germany, in 1924 to start his professional acting career but the side-effects of an appendisectomy triggered a succession of health problems leading to a drug addiction.
« Everyone needs help from everyone. » (Bertolt Brecht)
The young actor went on his stage work from Zurich's Schauspilhaus to Vienna's Kammerspiele, where he earned respect from critics, and finally arrived in Berlin with the idea of meeting Bertolt Brecht. Interested by Peter Lorre because of his unusual type (« I didn't look like an actor »), Brecht cast him as « a half-cretin of a high school student » in Pioniere in Ingolstadt, a play by Marieluise Fleißer (1928), where he became an overnight sensation (« I was the hottest thing on the Berlin Stage »).