Objectif Cinéma : You were born in Germany. Could you please tell us a few words of your life before your arrival in the US ?
Robert Brinkmann : I have always wanted to get away and escape. As a young child, I developed a habit of going to the weekend movie matinees at one of the local theatres - I was too young to go in the evening - and watched japanese monster movies there every Sunday at 10:00. I guess you could say it was my church.
When I was 15, I moved out of my parents house and was old enough to go to the local revival house almost every day. I spent so much time there, that they offered me a job. As soon as I had finished school, I was on a plane to New York. I lived there for a year and saw an average of two films a day in the beautiful revival houses that were there back then.
Objectif Cinéma : At the time what were your favorite US and german movies ?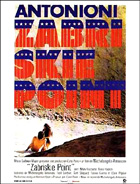 Robert Brinkmann : The first film, which made me realize that there was more to films than monsters, was Michelangelo Antonioni's Zabriskie Point. I was 15 at the time and remember the moment I understood that there can be poetry in cinema. My favourite filmmaker back then was neither german nor american - I loved, and still do, everything that Roman Polanski did (and does.) I also adored the films of Werner Herzog, particularly Aguirre, the Wrath of God and Woyzeck, and Wim Wenders' Kings of the Road and Alice in the Cities.
Objectif Cinéma : At the University of Southern California you specialized in cinematography. Why were you attracted by this speciality ? Did you plan to become a director then ?
Robert Brinkmann : Like every film student entering film school, I wanted to be a director. Unfortunately, I am a lazy writer. The films I did make were very esoteric and hard for people to relate to, but they always looked good. Eventually I realized, that not every film student can be a director ; there have to be editors, sound mixers and cinematographers as well.