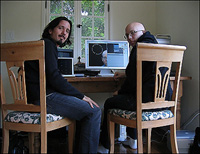 We shot with two, sometimes three, cameras. Andy and I put the different cameras on different monitors and watched them in sync. When you do that, it is so obvious which angle is working, that it is very easy to cut. That is another thing I learned from Rattle and Hum. Phil Joanou cut the entire movie that way on a very expensive editing system. The difference now is that we can do it on an Apple computer at home.
Objectif Cinéma : As a director of photography, you worked with talented directors. What are the most important things you learned from them ? Among these things, which did you use for your own movie ?
Robert Brinkmann : I have had the privilege of working with some great directors. Roger Avary, Peter Bogdanovich, Agnieszka Holland, Reggie Hudlin, Liam Lynch, and Ben Stiller have all taught me a lot. I think most importantly, I learned to trust my vision and my actor.
Objectif Cinéma : Could you tell us some words about all the technical aspects of your movie ? Could Stephen Tobolowsky's Birthday Party have been possible without the emergence of digital technology ?
Robert Brinkmann : I always wanted to shoot this film on 35mm. I was concerned, that a smaller canvas would give the film less weight and make it feel almost like a home movie. Unfortunately, it was cost prohibitive for a self financed film, and I was unlikely to get several hundred thousand dollars to film Stephen in his living room. I was very sceptical of the early HD technology, and it wasn't until Sony came out with the F 900/3 upgrade, that I was satisfied with the look. Without the huge improvement in HD technology, it might have taken us another 15 years to finally do it.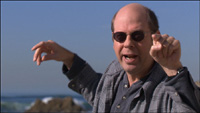 Objectif Cinéma : Stephen Tobolowsky's Birthday Party will certainly be considered retrospectively in the History of cinema, not only as a coup de maitre but also a breath of fresh air as your movie recalls us that stories are fundamentals to make a film truly entertaining .
Robert Brinkmann : If STBP is even a footnote in the History of cinema, our film will have received more attention than I thought. I thank you for your kind words.
Objectif Cinéma : What are your favorite stories in the movie ?
Robert Brinkmann : My favorite stories change all the time. Right now, I love the dolphin story in the beginning for its magic and for the fact that it hooks the audience. I also love the story of the stunt man, Dick, because it is so moving. The story of Joshua on the set of Mississippi Burning is another favourite, because that truly is film history.