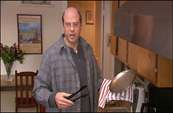 « This town, Los Angeles, is based on people saying no to you. They say no to actors, to writers, directors, evryone... They even said no to Steven Spielberg when he wanted to do E.T. » (The actor)
While some magnificent sausages are boiling within beer for the barbecue, Tobolowsky tells how, when he was a young actor, he had an audition by phone to be the clown for a well-known fast-food chain, and then how he received a retroactive lesson of humility from an old man crossing the street.
The tone employed is a magic natural mixing of humor and sensibility and all the secret of the movie is there : this is not a movie about Stephen Tobolowsky, this is not a remake of In Bed with Madonna or Being John Malkovich but a movie on the universal art of storytelling, with for medium Stephen Tobolowsky, heir of Mark Twain or Woody Allen (« The reason I hate golf is that I realize it is the one game that really accentuates the difference between expectations and reality »).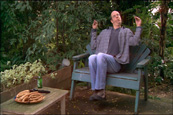 In his back-yard, Stephen Tobolowsky remembers an odd flight between Boston and Los Angeles, near living lobsters attached on a seat with the belt, but he goes on with the announcement by Ann Hearn (his wife, then his girlfriend) of her pregnancy while the actor was shooting Great Balls of Fire (« We were staying at the Radison Hotel, whose claim to fame was that it was next door to the Peabody Hotel, which was an actually good hotel »). He concludes the story with a moving corollary taking place 14 years later.
« When you blow out a match, where does the flame go ? » (The philosopher)
IN THE LIVING ROOM WITH STEPHEN TOBOLOWSKY
To watch Stephen Tobolowsky's Birthday Party is an unforgettable cinematographic experience, if not a human experience. It's an unexpected opportunity to share some precious moments with a remarkable man, a talented, intelligent and sympathetic artist and one of the most subtle connoisseur of the Hollywoodland universe.
« Eh buddy, it hurts. » (The old man crossing the street)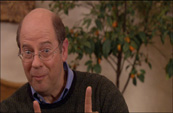 In his living rooom, Stephen Tobolowsky explains without the single self-concession how he was once nominated as one of the « 100 coolest people in Los Angeles » by Buzz Magazine (« Could you tell me something you've done that's cool - No, I cannot, that is completely uncool ») - nomination for which he faxed a list of « Cool things » to this magazine :
- Thrown with his wife out of a restaurant in Washington and, two years later, of another in Helsinki because president Ronald Reagan was going to dine in these restaurants (« This was denial of food, across the world, across the spin of time, by one man. At that point, the most powerful man in the world »).
- In a grocery store, has been asked for an autograph but was mistaken as an employee within a 20 minute time period.