« But I always had a notion for a Superman film - that Superman would be gone somewhere and then would return... » (Bryan Singer, interviewed by David Hugues, Superman returns - The complete shooting script)
RETURN OF THE CLARK
« There's a Superman for every generation. » (Michael Dougherty, co-writer, interviewed by David Hugues)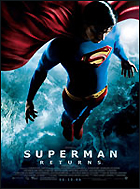 The process of producing a Hollywood blockbuster is as painful than thoughtful and there's no reason for the return of the Man of Steel on the big screen to be the exception to this rule. Especially when the last opus of the franchise to date was Golan & Globus's Superman IV - The Quest for peace (1987). With the triumphant rise of the dvd and the internet as an essential marketing tool the most intimate stages of a movie production are no secrets anymore for the cinema buff. And long after the on-screen release of the finished product, « Special-exclusive-alternative-director's cut-collector-de luxe » dvd editions allow easily to play to the What, if ? Game.
But the most effective tool to understand the complexity of the art to deliver a blockbuster remains the movie script, remember The Avengers (1998), written at a time where movies and tv's addicts didn't have the slightest notion of what a dsl internet connection would be and where VHS was the king of the world.
« ... and that's what's great about publishing the full script. The return to Krypton is not in the movie, for example. » (Dan Harris, co-writer, interviewed by David Hugues)
From this perspective, the publishing of the complete shooting script of Superman Returns by Titan Books (a reference publisher when you talk about popular culture) is one of the highlights of the cinephilic season 2006-2007.