« What is surprising is that I lasted as long as I did. » (Orson Welles, quoted in What Ever Happened to Orson Welles, Page 18)
AND THEN THERE WERE NONE ?
« I feel young, happy, and ready to make movies. » (Orson Welles in 1982)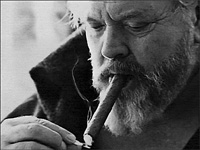 The best way to try to find the answer of an enigma is to establish a postulate straight. One of the most enduring cliché in the History of Cinema is that, in 1941, Orson Welles gave the world what french director François Truffaut called « the Film of Films » and then, in the eighties, shot these infamous « No wine before its time » commercials.
Amongst the public, the general opinion doesn't fare much better. This wonderful scene in The Last Action Hero with the sequence of the 1948 version of Hamlet, directed by Laurence Olivier (« You will now see a scene from the film by Laurence Olivier. You may have seen him in the Polaroid commercial - or as Zeus in Clash of the Titans ») could easily be transposed with Orson Welles. Was he the guy who made the voice of Robin Masters in the Magnum P.I. hit series or Unicron in Transformers : The Movie ? Le Chiffre in Casino Royale (1967) ? Who is this Orson Buggy parodied by the great british comedian Benny Hill in one of the most famous skits of his show ?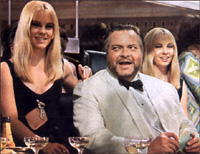 There is something between the caricature of a so-called failed career in directing and the ashes of oblivion. What Ever Happened to Orson Welles ? A Portrait of an independent career fills the gap, with the help to the author Joseph McBride and the publisher University Press of Kentucky – home of a magnificent biography of actor Peter Lorre : The Lost One – A life of Peter Lorre (http://www.objectif-cinema.com/spip.php ?article3955).
AMERICA'S FAVORITE ORSON
« Despite the great acclaim the twenty-five-year-old Welles received for his first feature film, the backlash caused by its fictional portrait of the powerful publisher William Randolph Hearst caused permanent damage to Welles's Hollywood career. » (Joseph McBride, What Ever Happened to Orson Welles ? Portrait of an independent career, Page 4)